STEP 1: Settings
Make sure you have your own PsyToolkit account.
In the top left of the PsyToolkit website, click on Settings.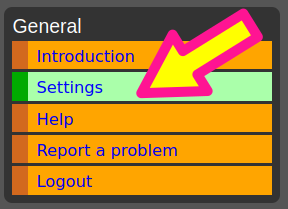 Now scroll all the way to the bottom and click the link "translate".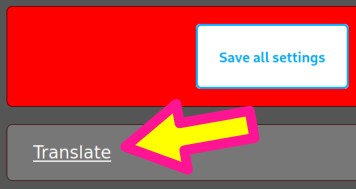 STEP 2: Select completely new language
From the drop down menu, select the last entry for creating a totally new language. If you want to update an existing PsyToolkit language, select that one.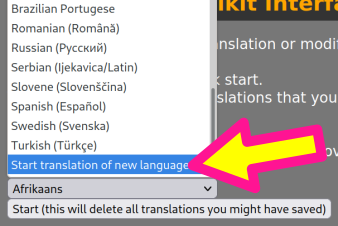 STEP 3: Do the translating
Now you will see all the PsyToolkit phrases such as "Please answer the question" and "Click this button to continue". You need to add your translation in the empty boxes.
| | |
| --- | --- |
| | In some boxes, some HTML coding is used, such as <h1>. You need to leave those as they are. Only change language that is clearly meant for human beings. |
STEP 4: Save your data
Once done, click the button, "Save translation to your own account".
| | |
| --- | --- |
| | Do not start any other new language until STEP 5 has been done, otherwise you just overwrite your translation file. |
STEP 5: Tell PsyToolkit you are ready
Great, if you made it until here, all you need to do is tell us your translation is ready.
Now send an email to psytoolkit@gmail.com and put in the header the word translation. When that arrives, the PsyToolkit team will process your new file and when approved, this will appear on the website.
Please tell us as well if you want to acknowledged or not. Normally, we like to thank you here.